The Ultimate List of Over 35 Free and Paid 80s Fonts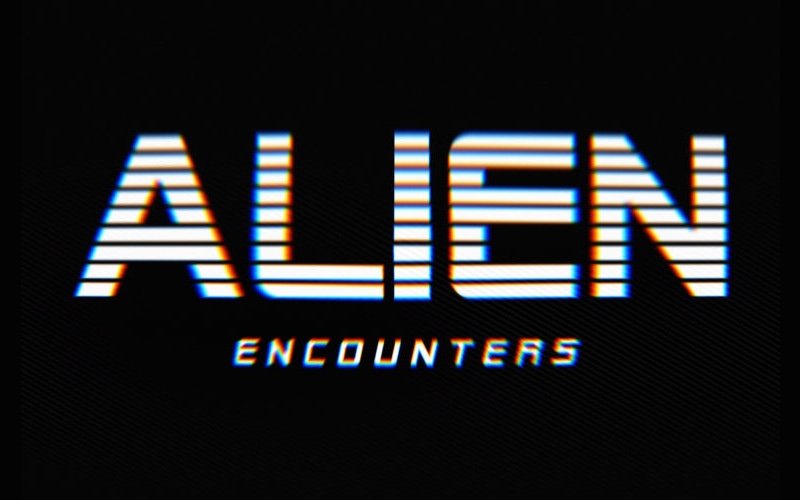 We're starting off our list with a very interesting Alien Encounter font. Hipsthetic published the font back in 2016. The way it's displayed in the image above gives a slight VHS feel. Not sure what it has to do with aliens but it definitely fits in with the 80s aesthetic.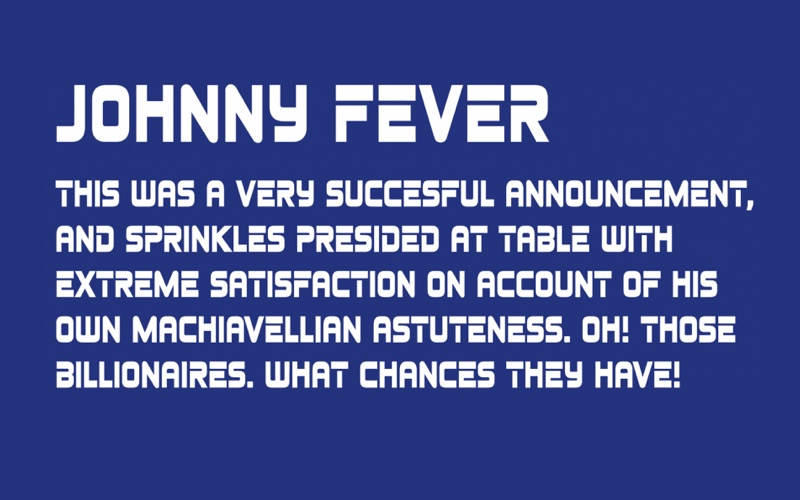 Up next, we have Johnny Fever. Typodermic Fonts Inc. published the font as well as Good Times which is later on our list. This 80s style font was inspired by Amiga 4k demos which is responsible for its swash cap, retro style.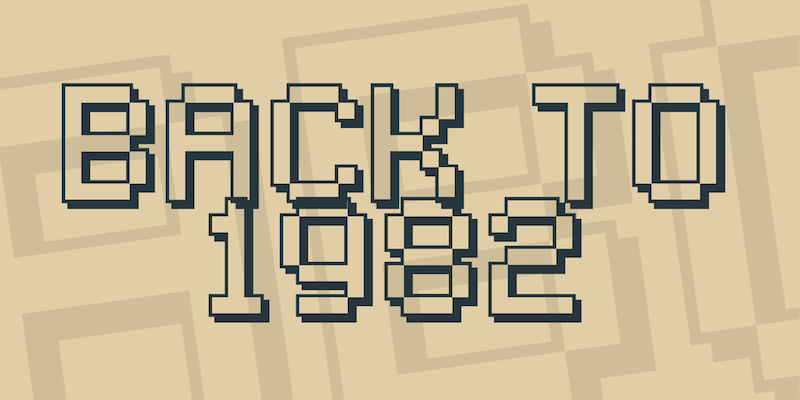 Made by Jakob Fischer of Pizzadude, Back to 1982 is an 8-bit style 80s font.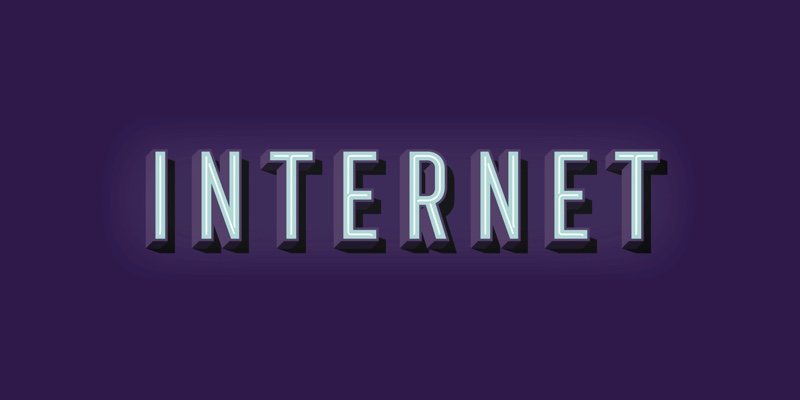 Juri Zaech created Frontage and shared is on Behance. The font is simple and has clean lines and its boldness can easily be used in an 80s style graphic.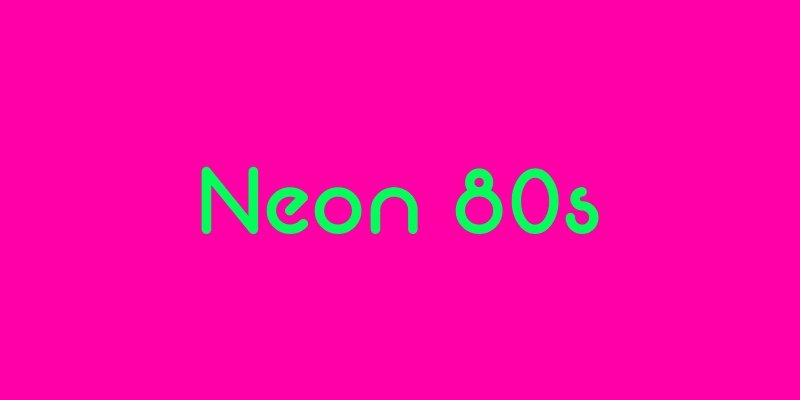 Essqué Productions published this free font for us on Dafont. The author notes that the inspiration for Neon 80s was the reminiscence of 80s neon lettering. Back in those days, neon was everywhere. The creator of Neon 80s definitely gave this font a newer look that still captures the essence of 80s typography.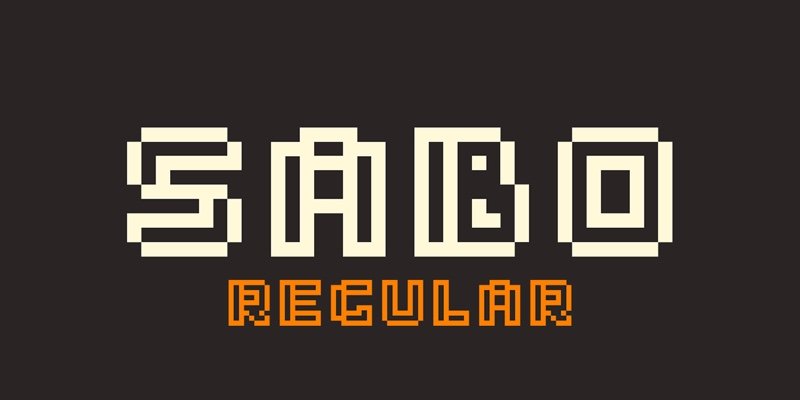 Sabo, created by a Swiss typographer Philippe Moesch, is a unique pixel font. It most definitely has the 8-bit inspired look and the font has a strong 80s vibe. However, it's designed a little differently than the typical pixel font and that makes the font just so much more interesting.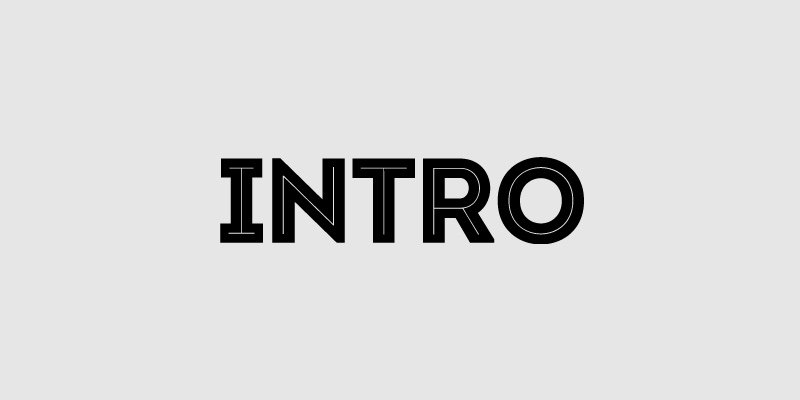 Released in 2012, Intro comes with two types, one fully filled in and one with inside line. Intro praises itself on being highly symmetric which is one of the biggest reasons for its appeal.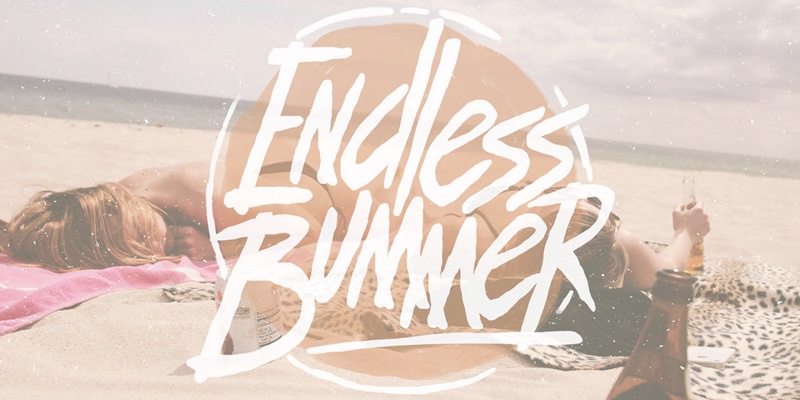 Endless Bummer is a hand-drawn font. The 80s skateboarding scene such as graphics, brands, and overall cultures from the decade inspired the designer Aaron May to create it.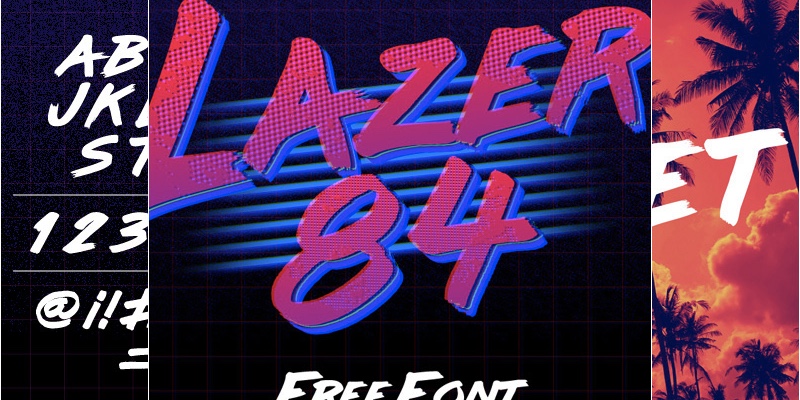 Juan Hodgson from Panama created Lazer 84 and released it to his Behance portfolio. It may be shocking to you, but Lazer 84 is also inspired by the 80s. That's what makes it a great contender for our list. Lazer 84 is a retro style brush font and it comes with numbers, symbols, and accents as well.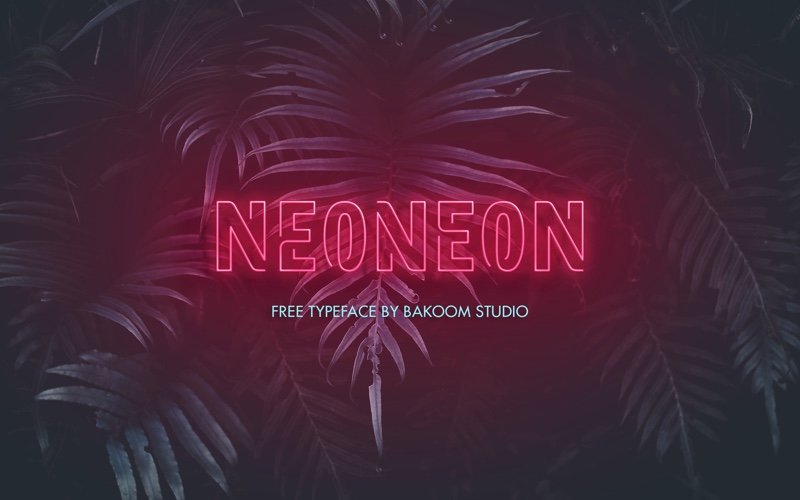 The last free font I have to share with you is Neoneon. Bakoom Studio created the font. It's actually their first font ever released and created. I must say they did a great job! The aim of creating Neoneon was to replicate the style of neon signs from the 80s.
Paid 80s fonts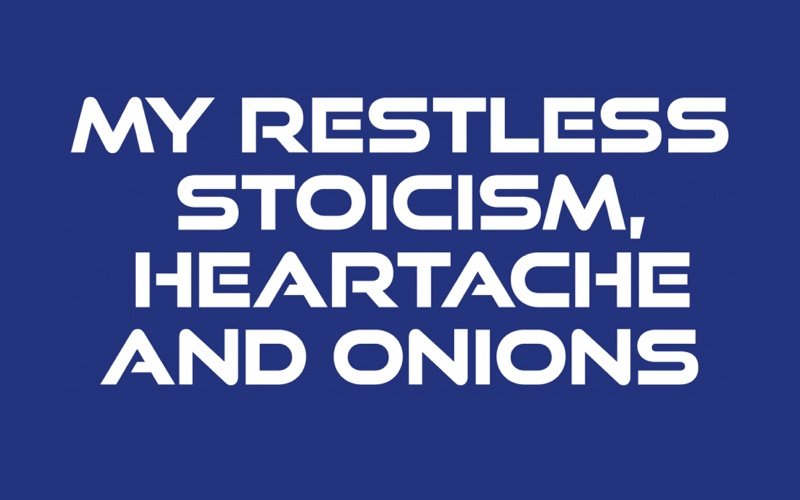 We're starting off the paid list on Good Times (see what I did there…). Typodermic Fonts published Good Times with fifteen different styles. Good Times is a grunge and display sans font.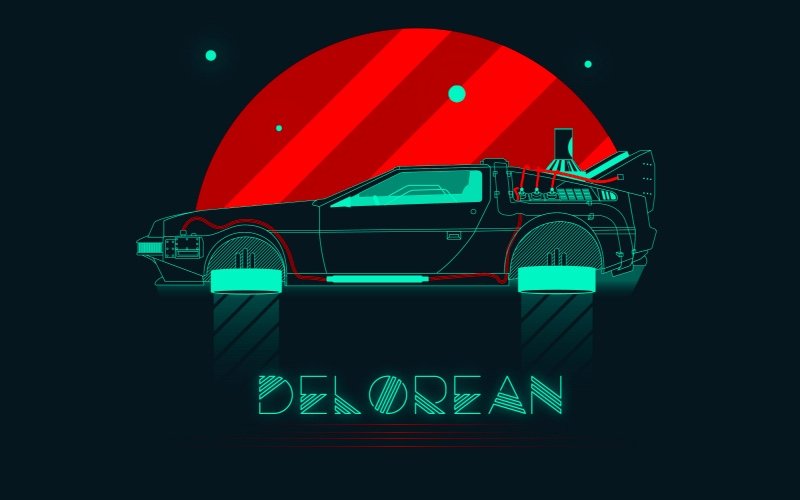 Miami in the 80s and the likes of synthesizer music, pink flamingos, and stainless steel DeLoreans inspired the creation of Razor. Razor looks really great in larger font sizes, such as on posters. The font comes in two different price formats for commercial and personal use. However, there is also a free sample of Razor available as well.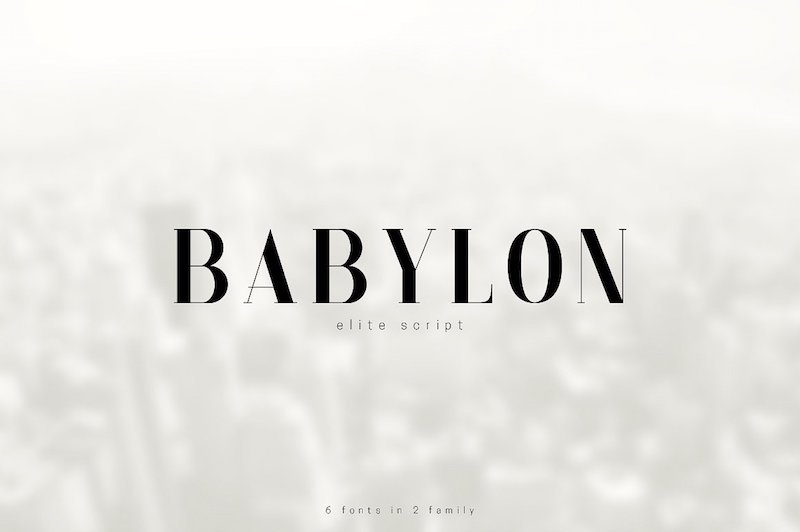 Let's not forget that the 80s were also an era of high-end fashion. Hence, a font like Babylon is also making our list today. The font was specifically created to highlight and show off status and importance. It definitely shows. Babylon comes with two families of six fonts.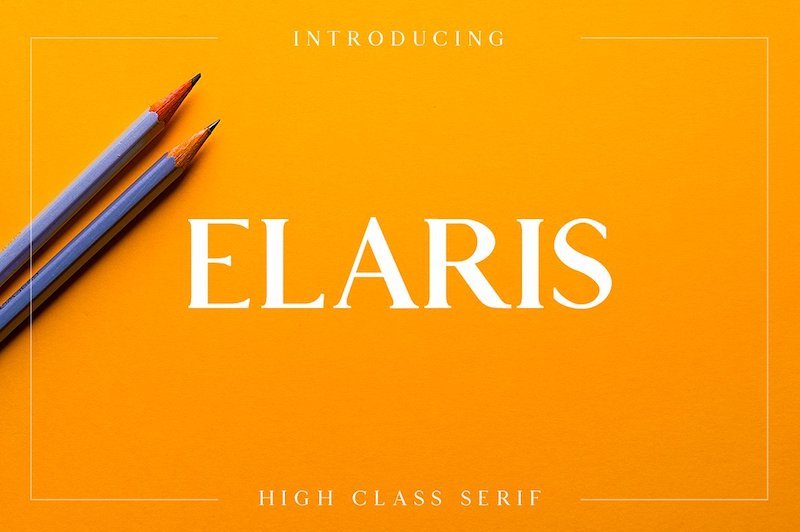 Elaris is another high-end and high-class font. Quill Type Co. created the font as a tribute to the past of typography's traditions. The font comes in four weights as well as multi-language support for European languages.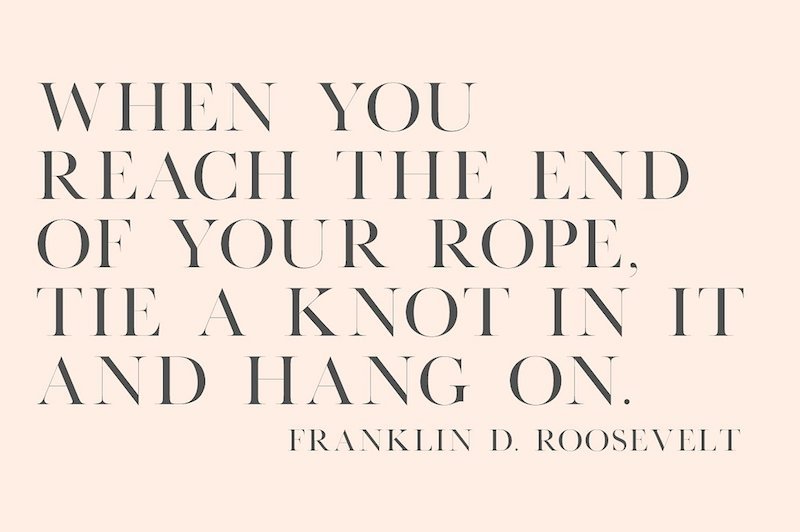 Once again, we have a high-end font. This is the last of this kind on our list. Manhattan is an all-caps sans-serif font. It comes with non-English characters.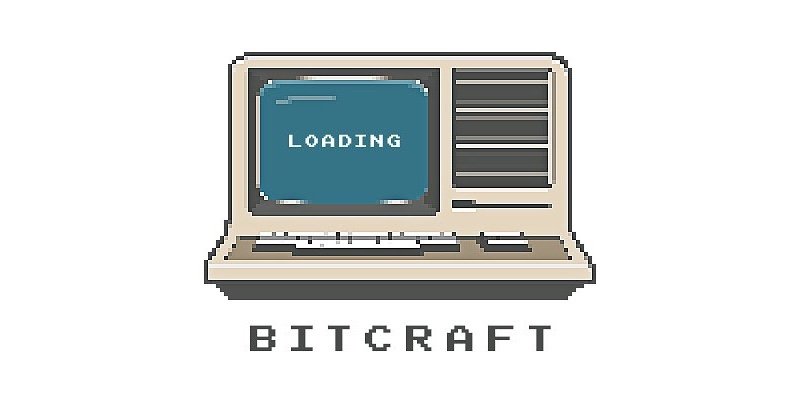 And we're back to pixel fonts!  As you can imagine, Bitcraft was inspired by the 8-bit fonts from the 80s as well.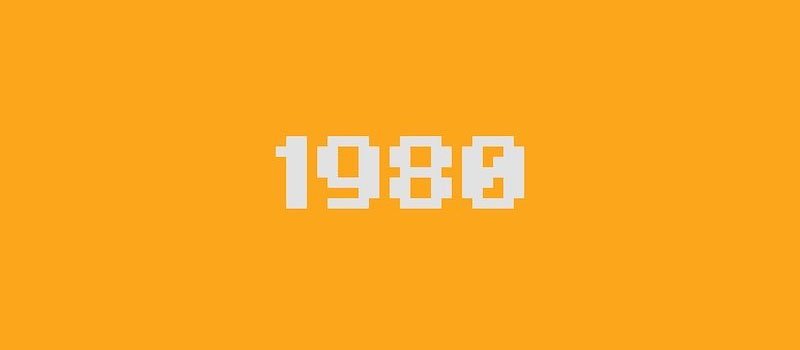 1980 nailed the perfect name for its 80s inspired 8-bit font.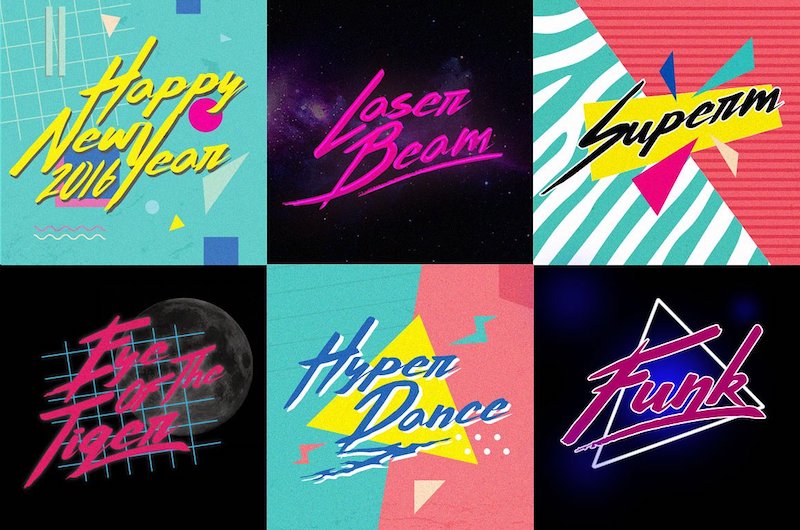 Thunderstorm was inspired by the music of the 80s and 90s, including pop, disco, and grunge. This is a brush typeface and it was handcrafted, too.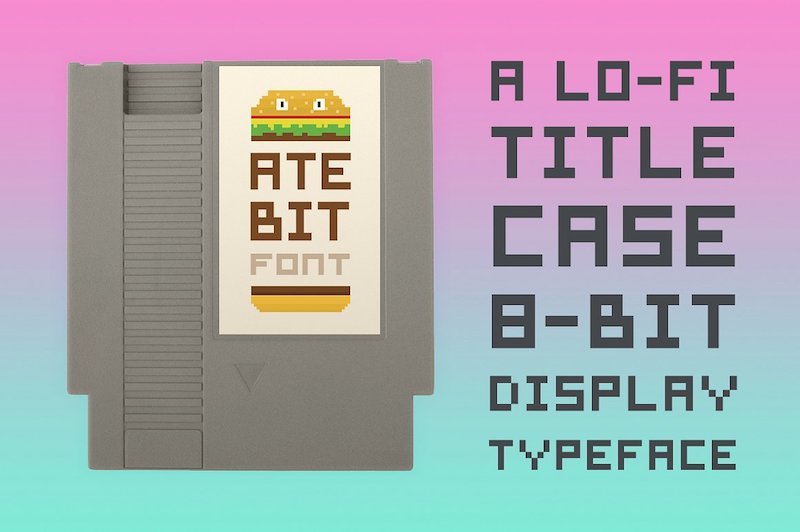 Ate Bit is an amazing pun for this 8-bit inspired font. Ate Bit is a great font throwback to the 80s. The upper and lowercase letters are both designed in title case.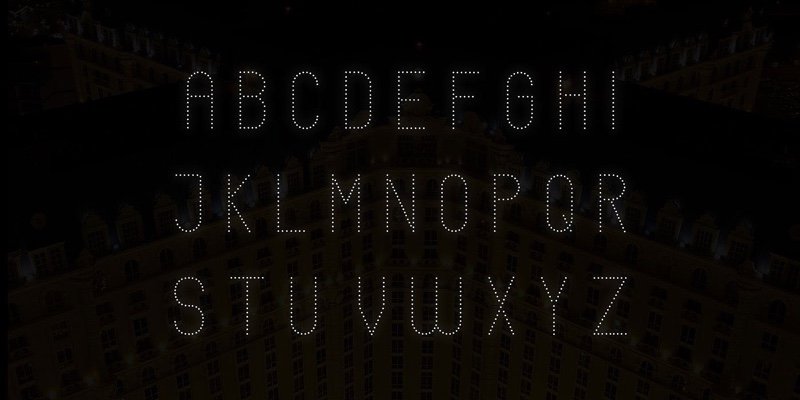 Although Neons is not a unique name on our list, as this is perhaps the third or fourth typeface that uses the word "neon" in its name. Yet, the design of this 80s inspired font is incredibly unique in style with its doted design. Neons comes with two font styles, a regular and a dotted one.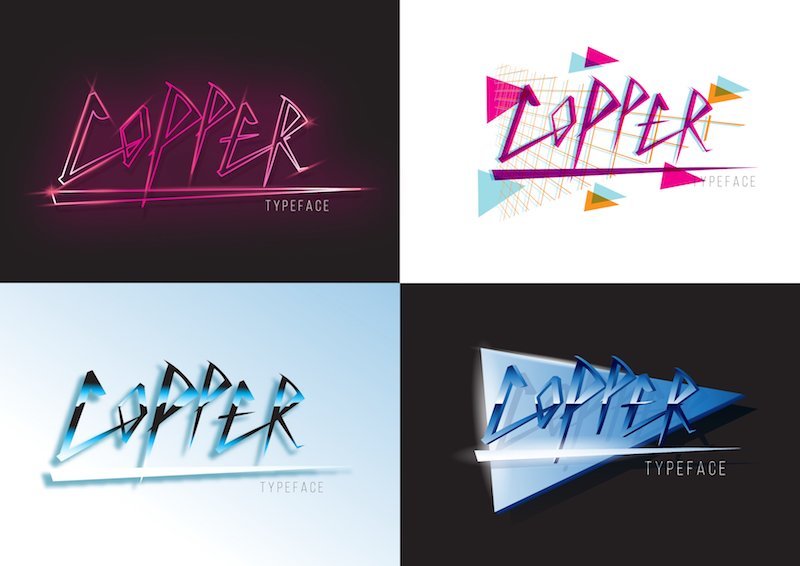 Copper entails all things 80s. It's actually a pretty versatile font, considering it fits into multiple 80s themes, as you can see it in the image above. Movie logos from the 80s and early 90s inspired the font.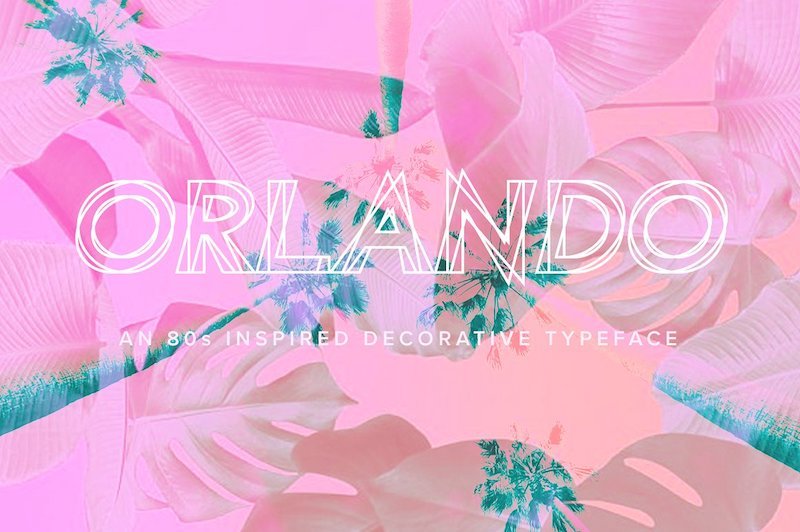 Orlando, once again inspired by the 80s, has a retro and hip look and feel going on. The font comes in two weights, pop and regular. It's an all-caps font that comes with numbers and basic punctuation. Orlando was designed by Jen Wagner Co.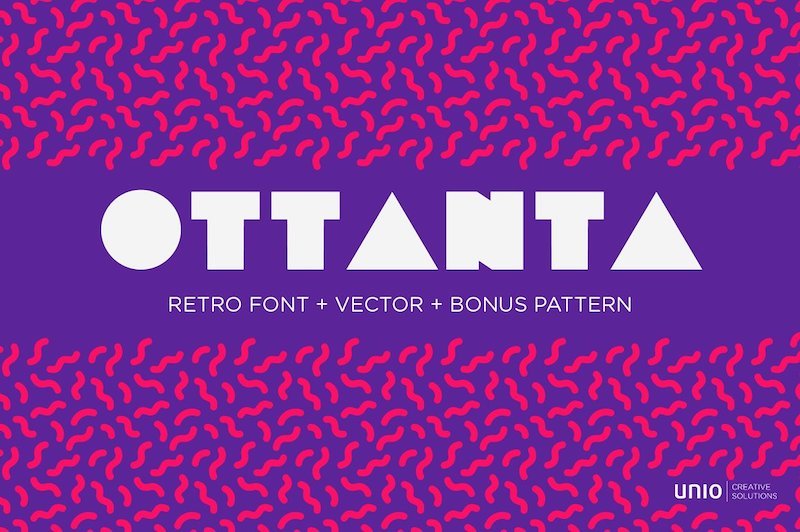 Unio, a creative studio, designed OTTANTA that has a unique nostalgic quality. This font fits well with the aesthetics of movies and magazines from the 80s. After all, it was inspired by the "glitchy" commercials from that decade.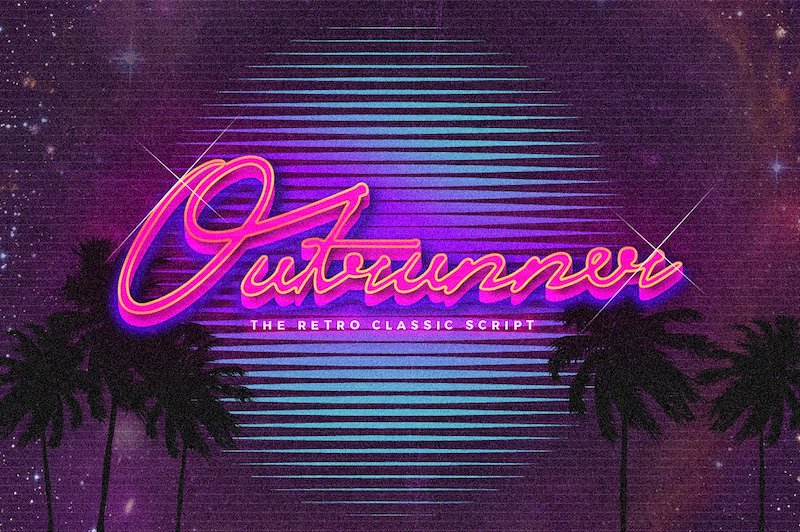 Outrunner, a classic retro script, is a great throwback to the 80s fonts. This font comes with lowercase and uppercase letters, numbers, alternatives, punctuations, and diacritics. Outrunner was inspired by the vibrant colors of the 80s.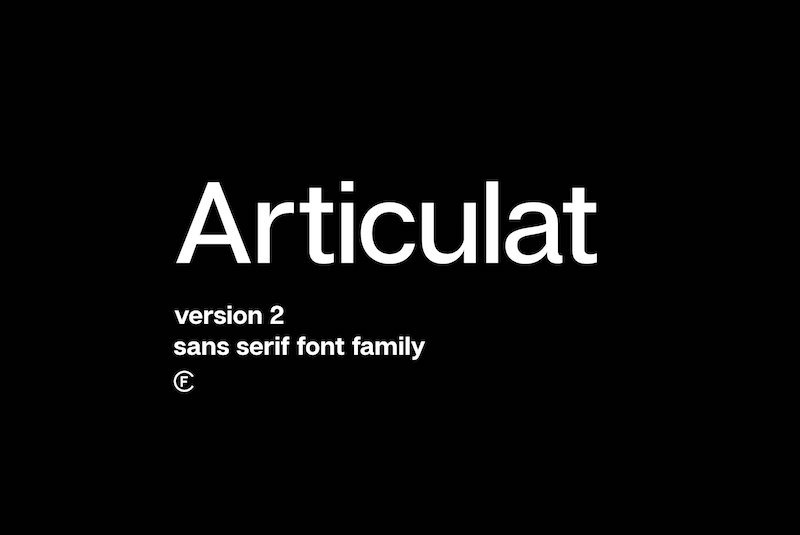 I'm including Articulat on our list because of the graphic designers and studios of the 80s.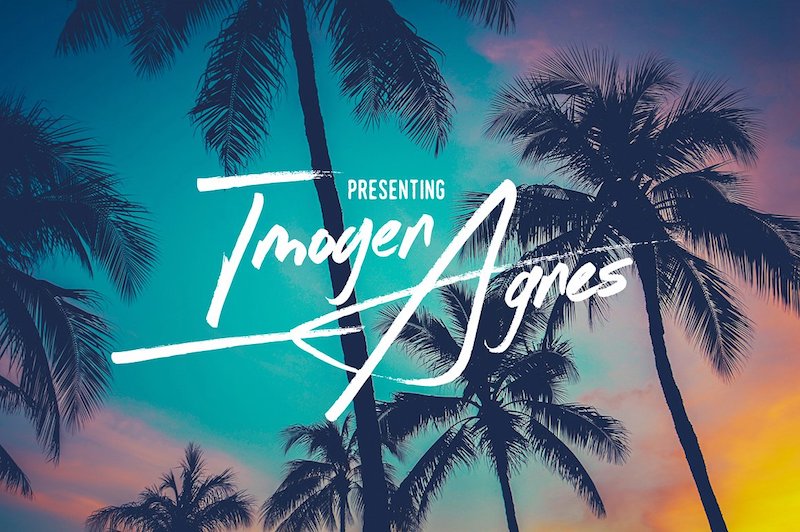 Imogen Agnes is a hand-made, signature-style font, designed by Sam Parrett. This 80s font comes with upper and lowercase letters, numerals, punctuation, and support for several languages. Imogen Agnes also comes with a bonus of 15 swashes.
Sam Parrett created Imogen Agnes and named it after his daughter, as he was frustrated with most signature fonts being either too perfect or too digitized. He wanted something different and designed Imogen Agnes as an alternative.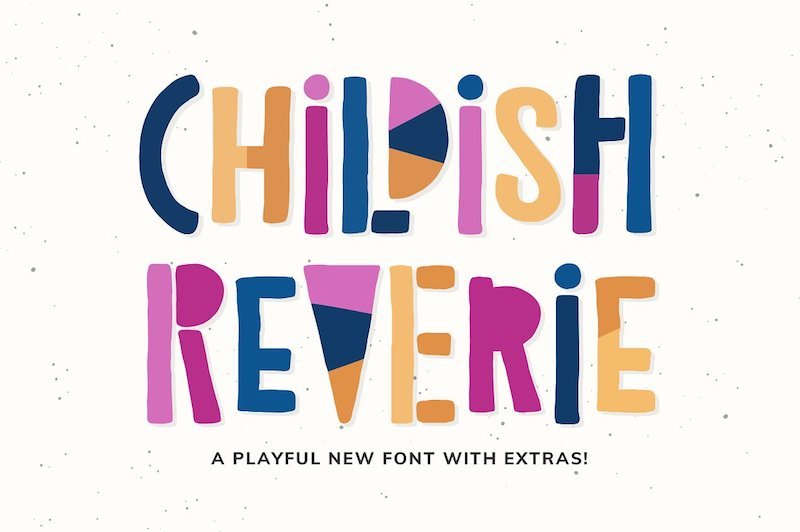 Childish Reverie is one of the most playful fonts on our list, designed by Denise Chandler. I think it fits well with the vibrant styles towards the end of the decade. It comes in two formats, font and doodles. Each of them comes in both OTF and TTF formats.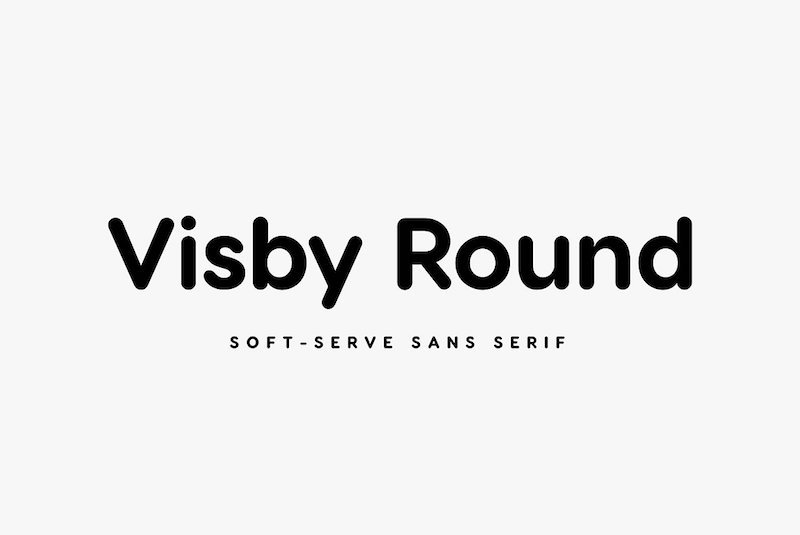 Designed by Connary Fagen, Visby Round comes in eight weights and obliques as an OpenType format. Visby Round has both Latin and Cyrillic letters.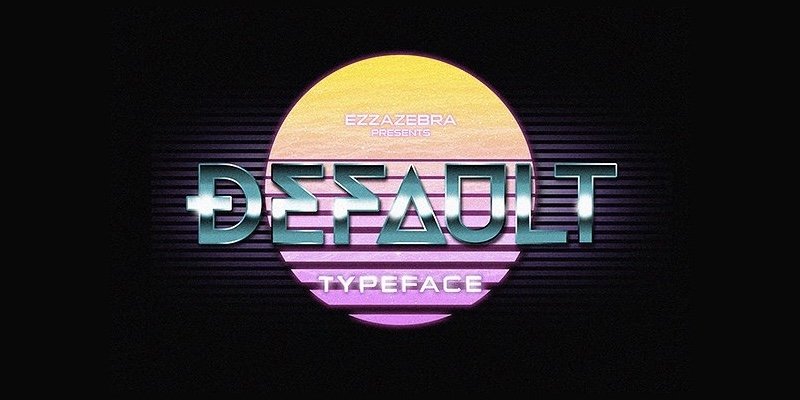 Default Typeface is a modern take on an 80s font. Video games and motion graphics of the 80s inspired Adhreza to create it. Default Typeface is a sans-serif font and comes with upper and lowercase letters, numbers, and symbols. It comes in four typefaces. When you make a purchase, you get a few extras, including element shapes, circles, and colors.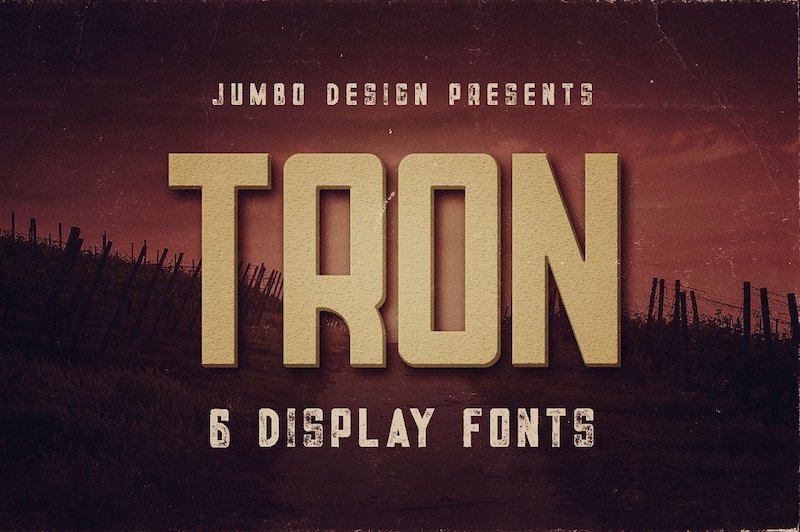 Although the graphics for Tron aren't very 80s, this is definitely an 80s font style.
It comes in six styles including regular and grunge, inline bold and inline bold grunge, bold and bold grunge. There are freebies you can download from the creator, too!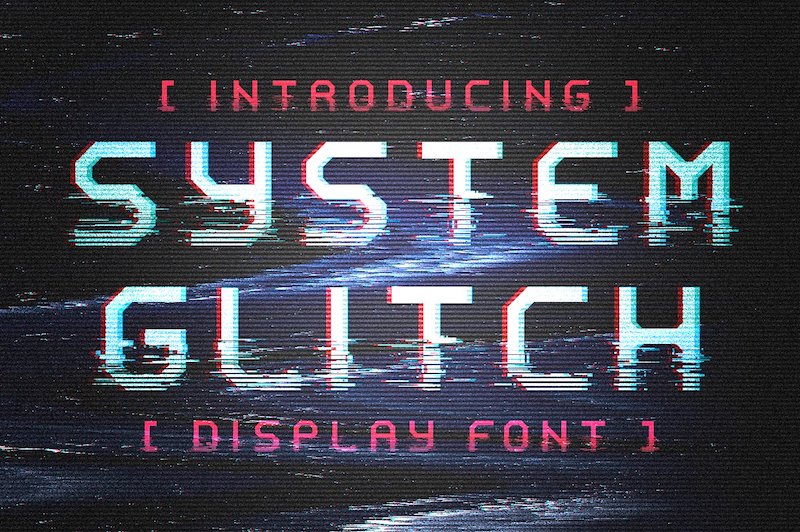 System Glitch is an all-caps 80s font. It comes with great design details, as the creator meticulously added glitchy lines and elements to each letter, number, and symbol.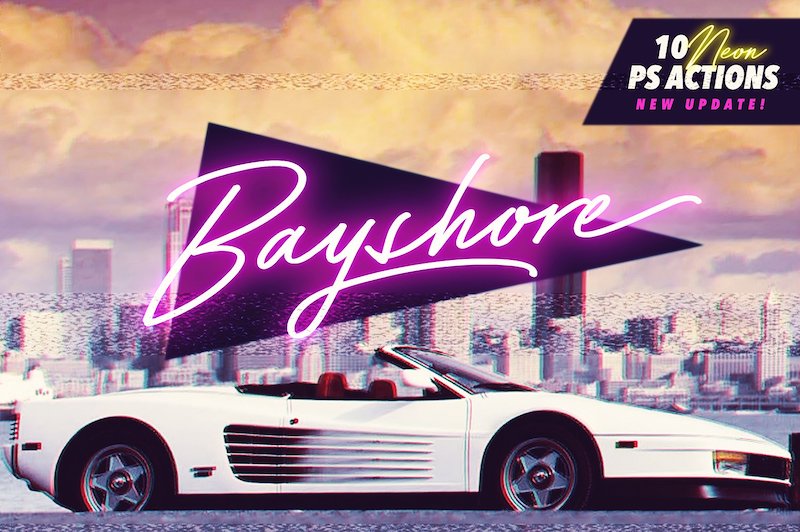 Here we have Bayshore, another font by Sam Parrett. He describes this 80s font as "a totally tubular mono-line script font straight out of the 80s." I must point out that this 80s font is heavily supported by Sam.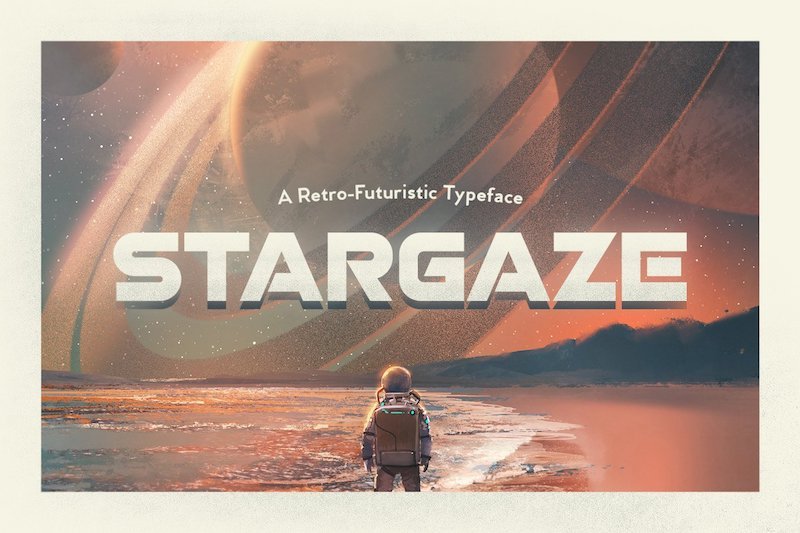 Stargaze, a retro-futuristic font can easily work in the 80s aesthetics. The font includes uppercase multilingual letters, numbers, and punctuation.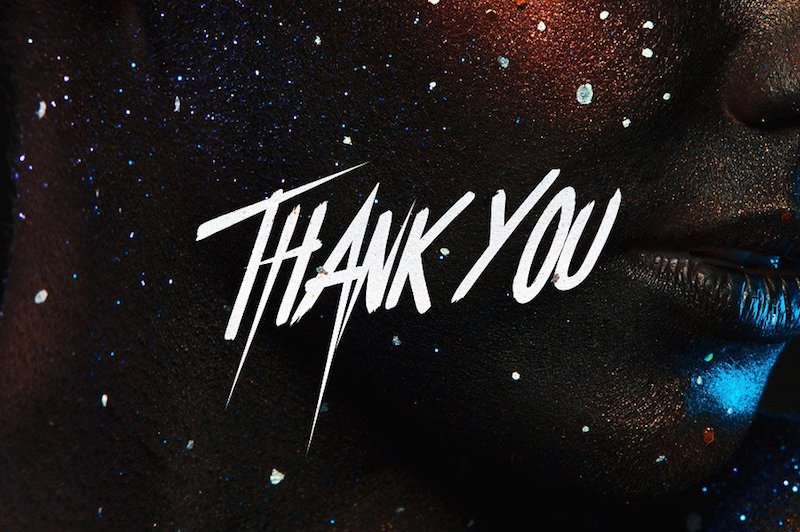 Veritus is a brush font that comes with English uppercase letters, numbers, and simple punctuation. It would look very good as an 80s font in any design.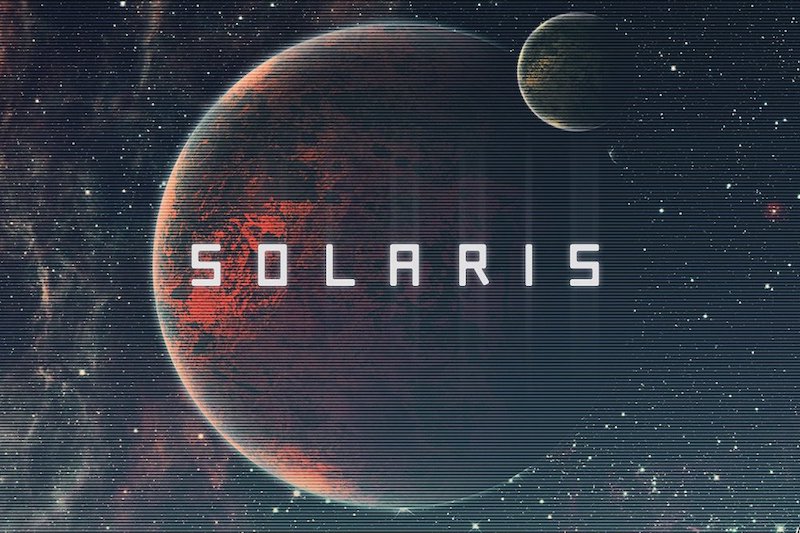 Computerized and futuristic, Solaris is an all-caps font. It comes with alternate letters, numbers, and punctuation. If you want to access the alternative characters, just toggle the Caps Lock key.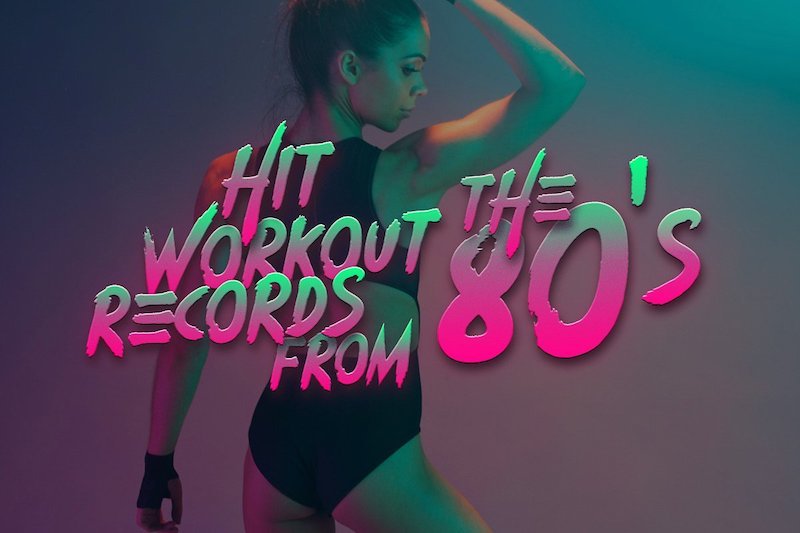 Lastly, we have Heatwave. Turgcu Design Co. created this font to reflect how awesome the 80s were. Right on! It's an all-caps font and it comes with alternatives, numbers, punctuations, and with limited multilingual support